There is a growing demand for supply chain traceability within UK manufacturing. The practice originates from stringent supply chain standards within the aerospace and automotive sectors, which in addition to the rise of Industry 4.0 and global competition, continues to put pressure on UK manufacturers to invest in additional equipment and processes.
Many manufacturers have already invested in fully automated, ERP and production-line integrated Industrial Marking Systems, capable of marking components moving on high-speed production lines. Components are marked with a unique ID, such as a Data Matrix code (DMC), scanned and tracked throughout the production, assembly and distribution processes. Industrial Marking Systems are delivering a range of benefits to those able to invest in industrial digitalisation. Benefits include productivity improvements as bottle-necks are identified, key metric data is gathered and monitored and quality escapes are reduced as raw materials are tracked and recurring faults identified
OEM suppliers are under pressure to meet international quality standards that are increasingly being adopted by manufacturers throughout the supply chain, such as IAQG Part Marking. Fortunately, there are a range of Industrial Marking Systems available, to suit a variety of manufacturing processes and budgets.
Below we summarise the main technologies used across the manufacturing industry to apply a part mark and start your supply chain traceability journey
In laser marking there are three main variants: CO2, YAG or Fibre.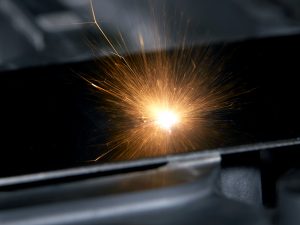 CO2 lasers have a high wavelength, making them a poor choice for metal marking. YAG and Fibre lasers use shorter wavelengths that are easily absorbed by metal – and provide better marking resolution.
The light source of Fibre lasers is sealed, preventing dust and particle contamination. This enables longer distances between the control unit and marking head – which is vital in some production line applications. It also reduces leakage, which boosts efficiency. YAG systems are typically used in specialist applications, particularly in the scientific sphere, while Fibre lasers are more commonly used in the industrial sector.
Laser marking has also become commonplace in medical applications, especially since the advent of UDI (Unique Device Identification) legislation. Here, laser marking can make a permanent, high contrast mark that last for the life of the product, while also being smooth and resistant to sterilisation.
While laser marking has huge benefits, it can also be the most expensive marking technology to implement. For details of Pryor's range of laser marking equipment please click here
Dot peening uses a stylus to indent a series of dots on the surface of a material. The stylus is programmed to move across the surface and create characters, logos or a Data Matrix code – a kind of 'barcode' that stores large amounts of data.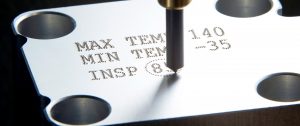 Dot peen marking is fast and accurate and can mark through coatings or film on a material's surface. It is particularly useful for permanently marking a Data Matrix code onto metal components.
When using dot peening, the depth of the mark – which is a measure of legibility – depends on several factors, including marking force, marking gap (the distance from the stylus tip to the workpiece), the material hardness and the stylus tip angle.
The larger the marking gap, the deeper the mark. However, if the gap is too large then the stylus will start to stick – and drag the workpiece. This is solved by reducing the gap or increasing the marking force. While the stylus tip angle is usually set at 90°, it can be reduced. While this will make a shallower mark, it will lengthen the life of the stylus.
Pryor offers an extensive range of dot peen marking machines – click here for further details
In scribe marking, a pneumatically actuated pin is driven into the metal surface then moved through the metal – engraving an inscription in a continuous line.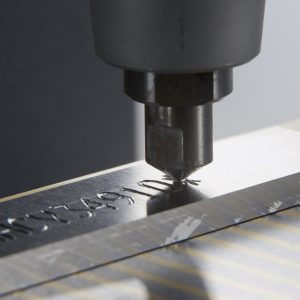 It is important to hold the work piece firmly – or there is little chance of making a good quality mark. Scribe machines need firm fixturing because they generate high lateral forces during marking. Deeper marks are harder to make than light ones, and this is influenced by factors including marking force, and the radius and angle of the tip.
Marking force is controlled by adjusting pneumatic pressure. It is usually set to 45 psi but should not be turned up too high. If the tip is sticking in the material – causing the machine to stall – this can be remedied by reducing the air pressure or reducing the marking speed.
The tip radius usually varies between 0.5mm and 1mm. Smaller radii give deeper marks – but can tear the material, instead of forming it. The standard tip angle is 110° but this can be modified for special applications.
The BenchScribe by Pryor is available in multiple configurations to meet your requirements – click here for more details
Chemical etching (also called electrochemical or electrolytic etching) uses an electric current to create marks such as alphanumeric data and Data Matrix codes on metal surfaces. It is commonly used for small to medium production runs in the aerospace industry – which has tight tolerances over surface treatment. A stencil of the design that is to be marked is placed between the electrode and the surface, and a low voltage current is then passed through an electrolyte to etch the material. It does not deform the material that is being marked – which is important in applications ranging from small pipes and shims to feeler gauges.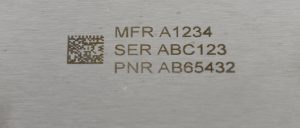 The reasons for product marking range from simple identification (such as adding a company logo) to production line tracking, and the wide range of options available ensures that all types of capability and budget are covered.
Pryor's chemical etching equipment is reliable, easy to use and comes with our latest traceability software – click here for more details
If you want to find out more about Pryor and the marking technologies mentioned above for supply chain traceability please visit our machinery website