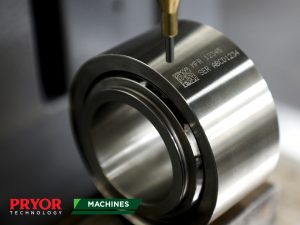 Part marking standards are very common in the aerospace manufacturing sector, due to the amount of complexity and detail that goes into producing their components. As a supplier of components to aerospace organisations, you must abide by these marking standards to ensure the smooth application of the components you produce. Here at Pryor Marking, we supply a variety of solutions to ensure you comply with the requirements of numerous international industry marking standards, including:
– US Department of Defence (DoD) UID Standards
– Airline Industry (ATA, A4A) Spec 2000
– AIM-DPM (Automatic Identification & Mobility Association Standard)
– SAE International Marking Standard AS9132
– Rolls-Royce JES131 & RRES90003 Standards
– ISO/IEC TR 2915
Aerospace Part Marking Standards Explained
SAE International Marking Standard AS9132
AS9132 is a standard issued by the International Aerospace Quality Group (IAQG), with the purpose of defining process requirements for the dot marking of 2D Data Matrix codes, relative to metallic parts. AS9132 dictates the the size of dot marks, along with the offset and limits to angle of distortion. This standard ensures that all Data Matrix codes marked onto aerospace components pass verification. Feel free to browse our guide to passing AS9132 for details of these specific requirements.
Airline Industry (ATA, A4A) Spec 2000
Spec 2000 was created by the airline industry to revolutionise the component production process. As an e-business related specification, the purpose of Spec 2000 is to overcome challenges with the airline industry's supply chain. It acts as a way to ensure that business processes are streamlined, and thus creating a universal standard for conducting e-business and product supply within the airline industry.
Rolls-Royce JES131 & RRES90003 Standards
The JES131 is a joint engineering specification issued by Rolls-Royce that defines and controls the requirements for how Rolls-Royce components should be marked. It covers both human readable and 1D / 2D machine readable marking methods. It also defines where the part should be marked, and what is the desired method for marking the component.
ISO/IEC TR 29158 Specification
This specification (issued by the International Organisation for Standardisation) regularly focuses on automotive and military manufacturing processes. This particular standard is a quality grading system for black and white printed Data Matrix codes. The AIM-DPM requirements have also extended to include the quality of dot peen and laser marked Data Matrix codes. This standard offers 5 grades, with grade 0 being a fail, grade being the worst pass and so on.
AIM-DPM (Automatic Identification & Mobility Association Standard)
This standard, issued by AIM (Association for Automatic Identification & Mobility) was created to improve upon the existing reliability of the ISO/IEC standards for 2D barcodes. As well as the standards laid out in the ISO/IEC standards, this standard dictates the marking techniques and part materials that should be complied with by all aerospace components bearing a 2D barcode.
---
Standard Compliance Solutions From Pryor Marking
Here at Pryor Marking, we provide a wide array of solutions for standards compliance within the aerospace manufacturing sector. Our automated part marking systems are easily set to produce permanent marks that comply with all necessary standards. As a market leader in permanent marks for aerospace components, all our systems are quality proven and guaranteed to integrate seamlessly into your existing production line. We also provide bespoke marking solutions, custom-built to meet your needs.
Get in touch with Pryor Marking today for more information on how we can help you. Our team is always happy to help.